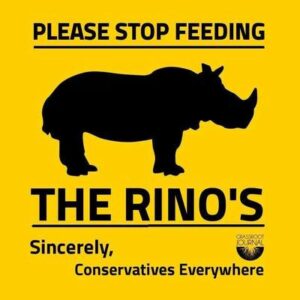 Back in March, I drove to Salem and paid $25 to run for Senate District 28. So many people have asked me about the filing, and the answer to why I am running is simple: I care about my community and about rural Oregon, unlike the liberals who are so upset about my candidacy. Every registered Republican in this district had from September 2015  through March 8, 2016, at 5:00 p.m. to file for office. No one else did so.
As a conservative, I'm happy to debate anyone, anytime about the principles of limited government and individual liberty. I think that the ideals of American exceptionalism and free-market capitalism can defeat any other ideology, any day.
Unfortunately, my opponents know they can't win, so they don't want to have an open debate – instead, they create a false narrative, tricking voters and accumulating more power for themselves.
For instance, look at this postcard from the liberal traitors in our own Republican party promoting an individual who personally claims to be, "a moderate, who is willing to cross the aisle and work with Democrats":

As you read this propaganda, do you wonder why his "moderate credentials" are left off?
Plus, every registered Republican in Senate District #28 has been receiving calls from large-scale call-centers, trying to influence voters while pretending to simply be polling for opinions.
This is the new trend in dirty politics – using big money to influence voters, rather than letting voters hear from the candidates themselves.
I have a grassroots campaign – no big Salem money or Washington D.C. dollars here. Every email you receive from me, actually comes from me, the candidate! This is how politics should be: real people with real convictions having real conversations about real-world policies.
Contrast this with my opponents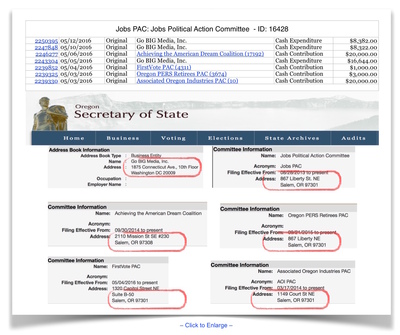 As you can see, the company creating these postcards is on the 10th floor of a high rise on Connecticut Ave. in D.C. I'm sure they're nice digs, but it doesn't sound like rural Oregon to me.  Also, notice the Jobs PAC has the same physical address as the Oregon PERS Retiree PAC. Coincidence?
The political elites are so out of touch with rural Oregonians they need this polling data to figure out what values appeal to the voters. Once they know what voters want, they use their bank accounts to create a false narrative to sway public opinion.
The Republican voters in District 28 obviously told the pollsters that they would only vote for a principled, trustworthy, and conservative candidate.
So, the PACs create a false claim that the write-in candidate is the "True Conservative."  But we know that this hand-picked lackey will abandon us after his first lobbyist luncheon; after all, his candidacy is being paid for by special interests!
Enough is enough.
Let's show these liberal PACs that we can't be bought or fooled. Vote for true rural Oregon values, with a true rural Oregonian candidate! I have a proven record of standing against special interests and standing up for our small towns, communities, farmers, ranchers, and hard-working families.
Thanks for your vote and support!
See detailed information at Oregon Secretary of State's Website